Hello all, and welcome to the second movie review in that series of two (FINALLY) that I had intended to do forever ago – Vampire Academy! 😀
  Starring: Zoey Deutch (Rose Hathaway), Lucy Fry (Lissa Dragomir), Danila Kozlovsky (Dimitri Belikov), Dominic Sherwood (Christian Ozera), Gabriel Byrne (Victor Dashkov), Olga Kurylenko (Headmistress Kirova), Sarah Hyland (Natalie), Cameron Monaghan (Mason), Sami Gayle (Mia Rinaldi), Ashley Charles (Jesse), Claire Foy (Ms. Karp)
Plot (taken from Yahoo! Movies):
"Rose Hathaway is a Dhampir: half human/vampire, guardians of the Moroi, peaceful, mortal vampires living discretely within our world. Her legacy is to protect the Moroi from bloodthirsty, immortal Vampires, the Strigoi. This is her story."
Trailer:
Characters:
Zoey Deutch (Rose Hathaway) – I *love* this character! Lol, she's one tough girl, and she's not afraid to say exactly what she thinks. This tends to get her into a little trouble sometimes, but it also makes for some of the funniest parts in the movie. 🙂
Lucy Fry (Lissa Dragomir) – She's an interesting character. I really want to see how she'll develop in the future. She's trying to come into her own, and deal with all the pressure she feels, being a possible future Queen. She's a little reckless as she tries to take care of things herself, but her connection to Rose keeps her grounded for the most part.
Danila Kozlovsky (Dimitri Belikov) – This guy was totally badass. I wish I had seen a little more about him – he seems like he would have an interesting backstory. Maybe if there's a sequel?
Dominic Sherwood (Christian Ozera) – Lol, kind of like a darkside Edward Cullen, I think. He even has the hair almost right. XD He's a little angrier, and a bit less of an overtly mushy type romantic.
Gabriel Byrne (Victor Dashkov) – Lissa's caring uncle was a well-written character who ended up surprising me, which is always good. 🙂
Olga Kurylenko (Headmistress Kirova) – Lol, she kind of creeps me out a little. She seems like an oily character, who's only really interested in what's best for her. She has no interest in even considering Rose's warnings.
Sarah Hyland (Natalie) – I really liked her throughout the movie. She's this kind of off-beat, quirky character that gets overlooked a lot. She's not flashy like the other two girls, and tends to get picked on for being as quirky as she is. In the end, I liked her for how she surprised me. 🙂
Cameron Monaghan (Mason) – The sweet friend character who is overlooked by the girl he has an obvious crush on. I love this guy, and hope he falls in love with an amazing, super gorgeous girl by the end of the series who loves him back.
Sami Gayle (Mia Rinaldi) – She makes a good mini-villain, kind of like Draco Malfoy in the Harry Potter series. She's a total brat (to put it mildly), and offers the kind of bullying that would make Mean Girls proud.
Ashley Charles (Jesse) – The school bad boy, and also a massive bully, much like Mia. I love to hate him. 🙂
Claire Foy (Ms. Karp) – This is an interesting character that I'd love to see more about in the future. She has a lot in common with Lissa, which is both cool and scary.
Review:
Lol, this was interesting.
Luckily, in a good way. 😀
Again, this is another example of me not reading the book first, so I went into this without knowing anything more than what the trailer gave me. I'm happy to say, this left me pleasantly surprised by how fun this movie was.
There was a sense of humor about it all, mainly through Rose, which I loved. They also did a good job of showing the battle between the light and dark in this world, and of building an interesting conspiracy that I didn't really see coming at the end, which was nice.
Sometimes all the schoolyard bullying got frustrating to watch, but that's mainly because I like drama in smaller doses. It didn't detract from the story for me, but at times I just wanted to get back to the fighting and snarky comments. 🙂
I also enjoyed the fighting scenes. They were well done, and fairly smooth, with only a few noticeable moments that didn't look as realistic as the rest.
So, as everyone's dealing with all kinds of death threats and violence around the school, and the possibility of certain characters going darkside, and… then…
Guys?
Hey… Um… Pardon me…
*cough, cough* Erm…
Are you paying attention? Strigoi apocalypse? Ringing any bells here?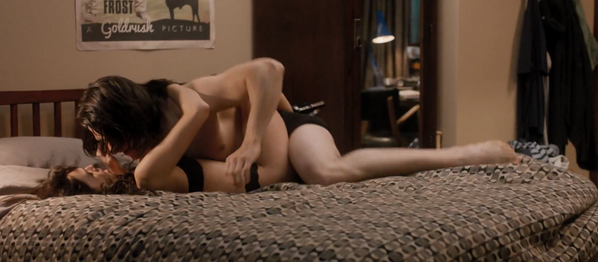 No?
Alrighty then.
So, there are some steamy scenes in this one that shocked me a little.
Mainly:
Because. Dimitri.
Honestly, they didn't show anything too crazy. But for some reason (which I get into below), I was surprised by how far they went with it.
After seeing the chemistry between Rose and Dimitri, I pretty much *have to* go read the books.
Now.
Right now.
However – while I am, admittedly, a sucker for romance, I have one complaint I have to mention here. Perhaps this particular issue I'm having is the reason why the steamy scenes seem more shocking to me than they might otherwise?
I'm not sure how to feel about the romance because they make a big deal out of Rose being a minor (16 or 17?), and how much older Dimitri is (I don't even have an estimate for his age – does anyone know?). They went out of their way to mention, multiple times, that Rose is too young for him, which made some of the steamier scenes almost feel dirty in a bad way. Perhaps that's why it felt a little shocking?
Please, for the sake of my sanity, AGE ROSE A LITTLE MORE BEFORE THE NEXT MOVIE.
I think I was a little thrown off that Edward was like 75 in Twilight too, and Bella was about 16 when it all started?
To be clear – age differences only bother me when one person is a minor.
Other than that, I really liked this movie.
The whole thing ends with a hook for future movies though – even the romance (which is probably best considering Rose's age). Lol, that's only a bad thing if they don't make sequels. I'm hoping this movie does well enough that there'll be more.
In the meantime, I'm off to the bookstore. 🙂
My rating for Vampire Academy: Not Bad – Cash-Worthy – This may not be everybody's cup of tea, especially if you're looking for a Twilight kind of feel – it has a darker, rougher edge – but it's still a lot of fun. Good world-building, some snarky humor, lots of romance, and general badassery from Rose and Dimitri make this a lot more entertaining than I thought it would be. Definitely check it out if you'd like a movie somewhere between Underworld and Twilight in the vampire spectrum, or love vampire movies in general, especially those based on young adult novels. 🙂
P.S. – For my friend, AR, the absolute best line in this movie: "Power up, Princess!" ❤
~~~~~~~~~~
My Rating System:
Epic: This movie is so mind-bogglingly awesome that I may go see it twice. This one will have a place of honor on my shelf.
Cash-Worthy: Good stuff. This will most likely find a place on my shelf.
Not Bad: I liked it. I'm glad I saw it, and it may or may not end up on my shelf at some point. I would say rent it first to be safe.
Meh: Rent it first. You may love it or hate it, but I'm indifferent probably because it's not my type of movie. I'm glad I saw it, but it won't end up on my shelf.
Emergency Cake: I have an emotional reaction to movies sometimes, especially to tragedies. If a movie makes me sad or angry, sometimes it will stick with me for a while. At these times, only chocolate cake can save me. Chocolate cake makes everything better. No shelf for you. Ever.
~~~~~~~~~~